AGGRESSIVE REPRESENTATION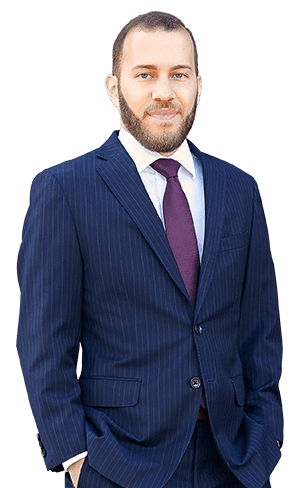 San Antonio, TX Personal Injury Lawyer
Same-Day Appointments and Contingency-Fee Representation
Legal Help is Just a Phone Call Away
At The Law Office of Eric Ramos, we proudly help clients in a wide-variety of personal injury and accident cases. If you need a lawyer now, or you simply have questions, contact us today.
When an accident brings life crashing down around you, you need someone you can trust to help pick up the pieces. While getting your car back or getting back to work may seem like your biggest concern, the reality is that the long-term effects of your injuries could lead to far greater losses for years – if not decades – to come. You certainly need to get your car fixed, and we hope you will be able to return to work soon; but, before you think about punching the clock, we want to make sure you have every opportunity to fully recover from your injury-related losses.
As personal injury and accident law firm, we are committed to standing up for accident victims and their loved ones. We know the financial and emotional devastation that can occur when injured Texans fail to protect their legal rights, and we have seen far too many cases where the insurance companies have convinced victims and their families to accept far less than they deserved. The insurance companies know that accident victims will settle for less in times of need, and they prey on this vulnerability time and time again. You have already suffered enough – don't let the insurance companies make your situation worse. Let San Antonio personal injury attorney Eric A. Ramos go to work for you and use his relentless will to win to make sure you receive the compensation you deserve.
What People Are Saying
Awesome representation. 10/10 would/will use him again.
– James P.
What People Are Saying

Eric advocates for his clients with passion and is committed to justice. Great attorney.
– Daniel M.
What People Are Saying
He is very compassionate and concerned about his clients. He makes himself available just about anytime. Very professional and down to earth.
– Cyndi V.
What People Are Saying
Eric is Awesome!! Sincere, compassionate, hardworking!
– Raul N.
San Antonio Injury Attorney for Auto, Truck, and Workplace Accidents
The Law Office of Eric A. Ramos is a personal injury and wrongful death law firm. We exclusively represent accident victims and their families, and much of our practice is devoted to auto accident, truck accident, and workplace injury representation.
Car Accidents
Car accidents are among the leading causes of traumatic and fatal injuries in the United States, and Texas has one of the highest auto accident rates in the nation. It only takes one mistake to change a life forever, and distracted driving, drunk driving, and speeding are all among the most common causes of serious motor vehicle collisions. If you were recently injured in an auto accident in San Antonio or throughout Texas, we encourage you to contact us immediately so that we can help you with your recovery. We will negotiate with the insurance companies for you; and, if necessary, we will take your case to trial.
18 Wheeler & Commercial Truck Accidents
Between the West Texas oil fields and Gulf Coast seaports, Texas has some of the busiest trucking routes in the country. This, unfortunately, also means that Texas sees more truck accidents than just about any other state nationwide. Like other types of auto accidents, trucking collisions are frequently the result of human error – from truck drivers losing control to trucking company managers pushing their drivers to spend too many hours behind the wheel. Truck and trailer defects are common factors in accidents as well; and, in truck accident cases, our first priority is to conduct a thorough investigation in order to identify the company (or companies) responsible for our clients' injuries.
Workplace Injuries
If you were injured on the job, it is important that you immediately speak with an attorney about your rights. Even if your employer carries workers' compensation coverage, you may be entitled to additional recovery. At The Law Office of Eric A. Ramos, we can seek additional compensation from any third parties that may be responsible for your injuries. Did you fall from a ladder or scaffolding? Were you injured by a forklift? Did you fall down the stairs at work? These are just a few examples of the countless types of accidents for which additional compensation may be available.
Wrongful Death
Each year, tens of thousands of people lose their lives under avoidable circumstances. If you have lost a loved one, we understand that no amount of condolence or compassion can provide the closure you need. While we cannot offer what you truly want – what you truly deserve – what we can offer is to do everything in our power to help you through this difficult time. We can help you understand your options, we can help you understand your rights, and we will not stop fighting until the person or company that was at fault has been held fully accountable.
No-Fee Guarantee
All of our clients receive our no-fee guarantee: If we don't win, you don't pay. Your circumstances are stressful enough without having to worry about legal bills. We want to take the stress out of the situation so that you can rest easy and focus on your physical and emotional recovery.
More Than Just Legal Representation
Scheduling doctor's appointments. Paying your medical bills. Getting a rental car. Dealing with your employer. These tasks can become overwhelming in the aftermath of a serious accident. So, why not let us handle them for you? We are passionate about helping our clients, and we do so in more ways than just providing aggressive legal representation.
Free Consultations
Your initial consultation is completely free and confidential. You shouldn't have to pay to find out if you need to hire a lawyer. Eric will meet with you personally to discuss your case, and he is more than happy to answer any questions you may have about your claim for compensation.
Same Day & Next Day Appointments
In most cases, attorney Eric A. Ramos can make arrangements to meet with you the day you contact our office. If Eric is busy with another client or tied up in court, we will make sure your appointment is scheduled as soon as possible.
GET THE REPRESENTATION YOU NEED TODAY!
Fill out the form to get started with a free evaluation of your personal injury case.