AGGRESSIVE REPRESENTATION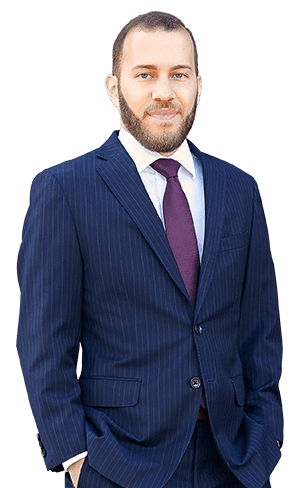 Midland, Texas Personal Injury Lawyer
Our No-Fee Guarantee Means If We Don't Win, You Don't Pay
Free Consultations Available by Phone or Online
We know that when you've been injured, you have a lot of new worries and may not know where to begin. Medical care, family care, lost wages, transportation, and physical recovery are probably just a few of your concerns. 
Midland personal injury attorney Eric Ramos and the rest of us at the Ramos Law Firm are here to guide you through this time of need. Our job is to focus on your case so you can focus on what matters most: getting your life back.
Whether you need us to find you doctors, get your vehicle replaced, or guide you in what to do next, we are happy and able to help. We know the ins and outs of injury cases including insurance and property damage considerations. We know how to get you into the right doctors and get your medical bills covered. Most of all, we know how to provide excellent care for you and your family. At the Ramos Law Firm, you're more than just a number. Contact us to find out why so many clients are happy they chose us.
Who We Are
We are a team of Texas personal injury attorneys who combine tried and true techniques with cutting edge litigation methods. We are constantly learning and improving our negotiation, litigation, and trial skills to benefit you and your family.
While our results speak for themselves, we pride ourselves on our service. We have helped countless clients get back on the road to recovery, both physically and financially.
Who We Help
Our sole purpose is to fight for maximum justice and maximum compensation for injured Texans and their families. We serve injured oilfield workers, passenger-vehicle accident victims, folks injured in truck wrecks, and families who have had loved ones wrongfully taken through no fault of their own.
Cases We Handle
In Midland and Odessa, we exclusively represent individuals and families who have been wrongfully injured in serious injury or wrongful death cases. We handle catastrophic crash and complex work injury cases. 
Contact our team today at (432) 639-7870.
Midland Personal Injury Attorney Eric Ramos
The Ramos Law Office is a serious injury and wrongful death law firm serving Midland and Odessa, Texas. We aggressively advocate for accident victims and their families. Below are just a few of our personal injury practice areas.
Passenger Vehicle Accidents
Although Midland has a relatively small population, a high number of car accidents occur in the city and surrounding areas. Crashes occur for a variety of reasons to include driver inattention and poorly maintained roads. If you've been in a car crash, don't play the insurance company's game. We'll fight for maximum justice and maximum compensation on your case.
Truck Accidents
Commercial vehicle and 18-wheeler accidents are often life changing and complex. Midland truck accident lawyer Eric Ramos devotes most of his time to these cases and continuing education on trucking accident litigation. If you've been hit by a big truck, don't choose just any law firm. Choose the firm with training, experience, and resources to handle these complex and often-expensive cases. Choose the Law Office of Eric Ramos.
Work-related Injuries
Workplace injuries can often be very complex. Many employers offer workers' compensation benefits but they rarely benefit the worker. If you've been hurt at work and your employer says they have workers' comp, don't just take their word for it. You may be entitled to a much greater financial recovery. We represent individuals injured in oil field and refinery explosions, burn injuries, well blowouts, electrocution accidents, crush injuries, and more.
Wrongful Death Claims
No amount of money can make up for the lost of a loved one, but holding the responsible party accountable can help bring closure. Aside from the tremendous emotional toll a loss brings, families still need to be aware of financial considerations when their family member can no longer provide for them. If you've lost a loved one, you most certainly have questions. It's our job to get you answers. It's our honor to fight for your legal rights and the rights of your beloved family member.
When you're in need, know that we're here and willing to support you. It's our job to get you through these trying times while we aggressively pursue every bit of justice you are entitled to. If you have questions that need to be answered, contact Midland personal injury lawyer Eric Ramos at (432) 639-7870.
Midland Personal Injury Attorney
Address:
Eric Ramos Law, PLLC
415 W. Wall St. #1240
Midland, TX 79701
Phone:
Open
24/7
By Appointment Only
No-Fee Guarantee
As a personal injury law firm, we work on a contingency fee basis. This means that you pay nothing upfront and we don't collect fees unless we win. You have enough on your plate. Forget worrying about upfront costs and focus on what matters most – getting better.
More Than Just Legal Representation
Do you know which doctors to see for your injuries? How are those doctors going to get paid? Is your truck in the shop or tow yard? What if you can't work anymore? These are tough questions but we have answers. We provide comprehensive guidance through the personal injury legal process.
Free Consultations
When you have a consultation with attorney Eric Ramos, whether it's over the phone or in person, you will not be charged a penny. Even if you're not ready to hire a lawyer and you just have questions, Eric is here to answer them.
Same Day & Next Day Appointments
For our Midland and Odessa clients, same-day phone, Skype, or Facetime consults. If Eric is busy with another client or tied up in court, we will make sure your appointment is scheduled as soon as possible. If you just want information from a member of our legal team, we will be happy to provide it.
GET on the road to recovery TODAY!
Fill out the form to start getting answers for your Midland and Odessa personal injury case.