AGGRESSIVE REPRESENTATION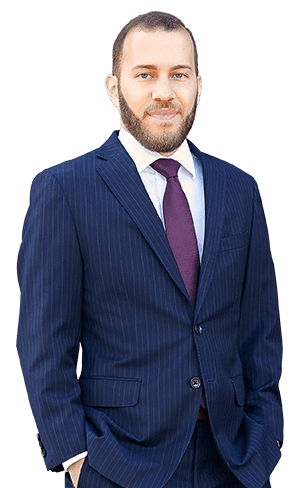 Laredo Personal Injury Lawyer
Our No-Fee Guarantee Means If We Don't Win, You Don't Pay
Peace of Mind is Just a Phone Call Away
When you've suffered a personal injury in Laredo, Texas, it can seem like your world is falling apart. While your main concern should be getting healthy, you are likely worried about your job, transportation, medical bills, and taking care of your family. With so much on your plate, dealing with insurance companies and trying to navigate the legal process can be overwhelming.
A Laredo Personal Injury Attorney Can Help
Attorney Eric Ramos and his team are committed to providing injured Texans and their families aggressive representation with personalized attention. Client satisfaction is at the center of what we do. This is not to say we don't fight for every penny, but while some attorneys focus solely on financial outcomes, our law firm focuses on complete solutions.
It is our aim and a great pleasure to provide total guidance throughout the personal injury process. We want to give you peace of mind so you can focus on your recovery while we fight for your compensation.
Don't leave your future to chance and don't let the insurance companies make a bad situation worse. Contact our Laredo personal injury team today at (956) 275-6060. 
Laredo Office
Address:
Eric Ramos Law, PLLC
1411 San Dario Ave #2
Laredo, TX 78040
Phone:
Open
24/7
Laredo Personal Injury Attorney Eric Ramos
The Law Office of Eric Ramos is a Laredo, Texas personal injury and wrongful death law firm. We exclusively represent accident victims and their families, and much of our practice is devoted to auto accident, truck accident, and workplace injury representation.
Auto Accidents
Because of the sheer number of cars and drivers on the road, auto accidents cause more catastrophic injuries than any other activity. While we don't usually think of driving as a dangerous activity, a car 3,000-pound vehicle operated by a negligent driver poses a danger to everyone else on the road. Laredo car accident lawyer Eric Ramos and his team handle auto accident cases involving serious injury and death. Whether the case is a straightforward accident with clear liability or a multiple vehicle pileup, we are eager and able to take on the challenges any case may bring. If you were injured in Laredo or anywhere else in Texas, we encourage you to contact our office to find out how we can help you today.
Trucking Accidents
Laredo has some of the busiest roadways for commercial trucks and 18-wheelers. With a constant stream of imports coming in from Mexico, our southern border gets more 18-wheeler traffic than most parts of the county. Unfortunately, truck wrecks, big or small, often result in life-altering injuries or death. If you or a loved one has been injured in an 18-wheeler accident, we can help. Whether the truck was from Mexico or the U.S., Laredo truck accident lawyer Eric Ramos will investigate, get answers, and fight to get you the maximum compensation you are entitled to. Don't hesitate. Contact us today.
Workplace Injuries
Laredo is highly industrialized and provides jobs for both American and Mexican workers and day-laborers. Many of the workplace injuries we handle involve hard labor, but we take on all kinds of workplace injury cases. When an employee is injured, he or she usually has many questions. Will I lose my job if I file a claim? Am I allowed to sue for my injuries if I am not a U.S. citizen? Will I be deported if I am undocumented? Laredo work injury lawyer Eric Ramos and his team have the answers to all of these questions and we will help protect your legal rights. If you have been hurt at work, stop worrying and start getting answers. Call our office today.
Wrongful Death
Though safety regulations regarding both transportation and working conditions have cut down on avoidable deaths, tens of thousands of people are killed each year in various types of accidents. We understand that nothing can replace your loved one, but we do our best to make sure that 1.) we hold the responsible party accountable 2.) we treat our clients and their families with compassion and respect, and 3.) we fight to make sure that you are financially supported through any settlement we may obtain for the loss of your loved one and any loss of earning capacity. Contact a trusted Laredo wrongful death lawyer today to find out what your family's options are.
Dog Bites & Animal Attacks
Every year in the U.S., 4.7 million people are bitten by dogs, sending more than 800,000 of them to the emergency room for medical treatment. In 2017, 39 people died from dog bites. The American Veterinary Medical Association (AMVA) reports that approximately 29,000 people need reconstructive surgery every year due to damage caused by a dog bite. Under Texas law, dog owners may be held liable for negligence when their dog bites someone. As your trusted Laredo, TX dog bite lawyer, we will investigate the circumstances surrounding the dog bite to determine if the owner was negligent. In most cases, the owners' homeowners insurance will cover you for the damages caused by the dog bite.
Slip & Fall/Premises Liability
Falls account for an extremely high number of injuries, including traumatic brain injury.
If you have been injured in a slip and fall or trip and fall, you may have a premises liability claim. When you contact our office, we'll investigate the place where you fell, secure any video or photographic evidence of the dangerous condition, and make sure you get the proper medical care.
In a fall case, time is of the essence. Don't wait. Contact a Laredo slip and fall lawyer now.
No-Fee Guarantee
We work on a contingency fee basis which means If we don't win, you don't pay. You have enough to worry about – legal bills shouldn't add to your stress. Forget worrying about upfront costs so you can rest easy and focus on your recovery.
More Than Just Legal Representation
Do you know what doctor to go to for your injuries? How will pay the medical bills? Is your car out of commission? What if you miss work? We understand, this can be a difficult process, so let us handle these issues for you. We provide complete guidance through the personal injury process.
Free Consultations
When you have a consultation with attorney Eric Ramos, whether it's over the phone or in person, you will not be charged a penny. Even if you're not ready to hire a lawyer and you just have questions, Eric is here to answer them. He derives great satisfaction through helping people feel less scared about their situation.
Same Day & Next Day Appointments
In most cases, we can arrange for an office visit or phone consult the same day you call. If Eric is busy with another client or tied up in court, we will make sure your appointment is scheduled as soon as possible. If you just want information from a member of our legal team, we will be happy to provide it.
What Our Clients Say
"Contacting Eric Ramos Law was easily the best decision I could have made after my car accident. If you have watched TV or driven anywhere in Laredo, you know there are a million attorneys trying to get your business. I decided to do my own research and I found Mr. Ramos' website online. The website was very informative and he had great reviews. I contacted the office directly and I was able to speak with Mr. Ramos right away. He was extremely nice and answered all of my questions. I'm still going through the process, but I am happy with everything so far. If you're hesitating, don't. I highly recommend this lawyer."
Rating: 5/5 ⭐⭐⭐⭐⭐
Claudio Darwin
Read more reviews on Google!
GET on the road to recovery TODAY!
Fill out the form to start getting answers from our Laredo personal injury lawyers today.