AGGRESSIVE REPRESENTATION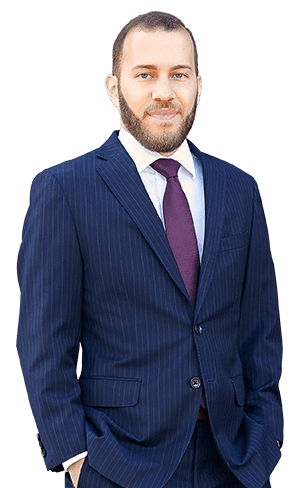 McAllen Personal Injury Lawyer
Our No-Fee Guarantee Means If We Don't Win, You Don't Pay
Peace of Mind is Just a Phone Call Away
We understand when you have suffered an injury, you're worried about recovering, your family, and your job. We know how frustrating it is to sit back and watch bills mounting up while you continue to feel like you're being victimized by an insurance company who refuses to pay your claim. This is when it's time to work with a personal injury lawyer. An attorney can help provide you the peace of mind necessary to focus on your personal recovery.
McAllen personal injury lawyer Eric Ramos and his team are here to help those who have been injured in a Texas accident. We know how to work with insurance company adjusters who are focused on doing what's right for the insurance company, instead of focusing on doing what's right for you, the victim of an accident.
We understand your focus must be on your physical recovery. Only when you're fully recovered can you resume working and taking care of your family. We also understand most people do not understand the legal process associated with personal injury cases in McAllen. We help victims who have suffered an injury in all types of incidents including dog bites, pedestrian accidents, and other accidents caused by someone's negligence.
When you or a loved one has suffered a serious injury including a brain injury, loss of a limb or injuries resulting in paralysis you need an attorney who will fight back and get you the compensation you deserve. Long-term injuries often require extensive medical treatment. You may be entitled to compensation that includes medical expenses, pain and suffering, lost wages, and more. The problem is, insurance companies will do everything possible to minimize the amount they are willing to pay for your injuries, or for the loss of a loved one. We help hold them accountable.
Contact our team today at (956) 948-7003.
McAllen Personal Injury Attorney Eric Ramos
The Law Office of Eric Ramos is a McAllen personal injury and auto accident law firm. We aggressively represent accident victims and their families, and much of our practice is devoted to auto accident, truck accident, and workplace injury representation.
Car Accidents
Unfortunately, there are few days that pass without a car accident on McAllen roadways. Injuries can vary depending on numerous factors, including the speed at which the accident occurred, the size of the other vehicle, and road conditions. We have worked with victims of accidents who are struggling to be treated fairly by insurance company adjusters. We know the insurance company will attempt to pay as little as possible towards your medical bills, lost wages, and even the repairs to your vehicle. Don't let the insurance company force you to settle for less than you deserve after an accident. Contact a McAllen car accident lawyer today.
Truck Accidents
Being involved in a roadway accident with a large truck usually means you are facing serious injuries. We have helped victims who have suffered crushed bones, head and neck trauma, and more. Because of the sheer size of an 18-wheeler, you are more likely to suffer a serious injury when you're involved in an accident with a truck than a car. Keep in mind, truck accidents can be caused by drivers who are ignoring regulations. Accidents resulting from drowsy driving, distracted driving, and drunk driving are all common on McAllen roadways. Call McAllen 18-wheeler accident lawyer Eric Ramos today and let us help you recover financially after a truck accident.
Work-related Injuries
While a workplace injury typically means you can collect Worker's Compensation benefits, sometimes getting these benefits is a challenge. Anyone injured in the workplace has questions including whether filing a claim will result in their losing their job. Because of McAllen proximity to Mexico, we often have injured workers contact us who are not U.S. residents and uncertain whether filing a claim could result in deportation. McAllen work injury lawyer Eric Ramos can help answer your questions and make sure your rights are protected.
Wrongful Death Claims
When you lose a loved one, there is no amount of money that will make up for that loss. However, there are other financial considerations including the unexpected costs associated with a funeral, loss of wages and medical bills you must deal with. We can help you recover from the party responsible for the loss of your loved one whether that loss occurred in a vehicle accident, a workplace accident, or a deliberate act.
Accident victims and their families need to know there is someone willing to stand up and fight for them. You can count on us to represent your interests aggressively and make sure the responsible party is held financially accountable for your injuries. We know the road to recovery is a long one and we also understand the stress associated with being unable to provide financially for your family while you're recovering from your injuries. Our goal is simple, to take the burden of worrying about negotiating with insurance company adjusters away from you so you can focus on recovering physically.
If you have lost a loved one in an accident, or you or a loved one has suffered a serious injury, you need to work with a McAllen personal injury lawyer who will work to do what is best for you. We know every accident is different, and that the right outcome depends largely on what is best for your family. Contact a McAllen McAllen personal injury lawyer in San Antonio at the Law Office of Eric Ramos, PLLC by contacting (956) 275-6060 immediately.
McAllen Office
Address:
Eric Ramos Law, PLLC
813 N. Main St. Ste. 503
McAllen
, 
TX
78501
Phone:
Open
24/7
No-Fee Guarantee
We work on a contingency fee basis which means you don't pay a penny upfront and you pay nothing unless we win. You have enough to worry about – legal bills shouldn't add to your stress. Forget worrying about upfront costs so you can rest easy and focus on your recovery.
More Than Just Legal Representation
Do you know what doctor to go to for your injuries? How will pay the medical bills? Is your car out of commission? What if you miss work? We understand, this can be a difficult process, so let us handle these issues for you. We provide complete guidance through the personal injury process.
Free Consultations
When you have a consultation with attorney Eric Ramos, whether it's over the phone or in person, you will not be charged a penny. Even if you're not ready to hire a lawyer and you just have questions, Eric is here to answer them.
Same Day & Next Day Appointments
For our McAllen clients, same-day phone, Skype, or Facetime consults. If Eric is busy with another client or tied up in court, we will make sure your appointment is scheduled as soon as possible. If you just want information from a member of our legal team, we will be happy to provide it.
What Our Clients Say
"I would just like to say how pleased I am with this law firm. Everything from start to finish was top notch. When I first called in, the polite receptionist (Amanda?) was extremely professional and courteous. She asked for a few details and then quickly passed me over to Mr. Eric Ramos. I was a bit nervous to speak with a lawyer but he has a way of making you feel so at-ease because he's extremely friendly and easy to talk to. He asked me about me and not only about the injury and insurance. I am extremely happy with the outcome and I would highly recommend Eric Ramos Law if you're ever in a car accident."
Rating: 5/5 ⭐⭐⭐⭐⭐
Grace Moreno
Read more reviews on Google!
GET on the road to recovery TODAY!
Fill out the form to start getting answers to your McAllen personal injury questions.